Product Quality
Fed cattle production quality continues to improve with each passing year in Quebec, despite declining production volume. All the buyers recognize this value, which compares favourably with the quality of cattle produced elsewhere in Canada and in the United States.
Quality is evaluated by the degree of marbling (A, AA, AAA or Prime in Canada and Select, Choice or Prime in the U.S.), greater uniformity in carcass weights and superior genetics.
The degree of marbling is a differentiation factor for the final product marketed by retailers and establishments in the HRI network (hotels, restaurants, institutions). Thanks to the efforts of producers, the percentage of cattle produced in Quebec with an AAA rating has increased significantly in recent years and is now at 59% of the production.
Bovitrace, a management aid

A great deal of information is gathered, recorded and analysed daily by feedlots.
Aware of these needs and eager to improve the management of their operations, cattle producers have, since 2003, invested in the development of the Bovitrace software. This tool, based on the permanent identification of each animal helps to track current transactions, keep records, analyse results and manage incoming animals and lots sold.
For details on this tracing, herd management and health management software, consult our Web site: bovitrace.com.
Veterinary expertise
Since January 2003, cattle producers have offered veterinary expertise services specifically for their production sector. Through these services, tools and specialized veterinary expertise are available to veterinarians and producers.
This program enables producers and industry stakeholders to have access to a wide range of leading-edge information through a dedicated Web site. It contains fact sheets, articles and more detailed reports and training documents. A database is also being developed. For details on this program visit: www.santedesbouvillons.qc.ca.
VBP+ Program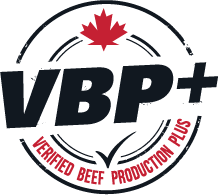 The new Web site of the Verified Beef Production Plus (VBP+) program is now accessible. It includes a regional page on Quebec. Producers and consumers will also find relevant information and documentation on the program, in both French and English. VBP+ is a program directed by producers, designed for the future, with the objective of allowing the industry to anticipate the emerging and growing demands of beef production throughout the value chain.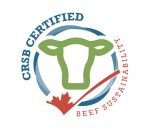 VBP+ links farm registers and auditing of animal care, biosecurity and environmental stewardship practices with the established on-farm food safety program (VBP), which is recognized by the Canadian Food Inspection Agency. This program contributes to meeting the demand for sustainable beef production on the cow-calf farm and at the feedlot. VBP+ is aligned with the Code of Practice for the Care and Handling of Beef Cattle and the sustainability indicator work of the Canadian Roundtable for Sustainable Beef (CRSB), to guarantee rigorous practices and principles in animal care, biosecurity and the environment. The cattle farms registered for VBP+ will be able to provide proof of their sustainable practices and will be well positioned to supply Canada's sustainability program.