Animal safety
Animal safety and welfare are major concerns world-wide. In Quebec, MAPAQ intervenes when animal health or welfare are threatened. Inspections are conducted in accordance with the regulations in force (see Animal Welfare tab).
Some livestock diseases can compromise animal health. An outbreak of these diseases can cause major economic costs for livestock producers and can even have impacts on human health.
To address this, the PBQ embarked on a collaboration with the Producteurs de lait du Québec (PLQ) to implement an emergency response plan to quickly and efficiently monitor and limit the spread of disease during outbreaks. The plan is currently in development and is expected to be completed in 2024.
In addition, different programs, particularly intended for businesses in the agricultural sector, have been established to improve animal health and welfare. To learn more about animal health, visit the MAPAQ website.
The main animal health concerns in cattle production have to do with biosecurity and antibiotic resistance.
Biosecurity
All meat sold in Canada by retailers, restaurants and institutions has been inspected in advance. There are two inspection levels: those of the federal and provincial governments. The role of these inspection services is to supervise cattle production to ensure compliance with the health and safety directives.
Biosecurity in cattle farming means…
Understanding how to secure your farm against the introduction of new diseases, such as

Salmonella

Dublin.

Controlling the spread of diseases within the herd.

Preventing contamination of other herds.
All these measures form the Biosecurity Plan for the farm.
Prevention of introduction of diseases
Biosecurity poster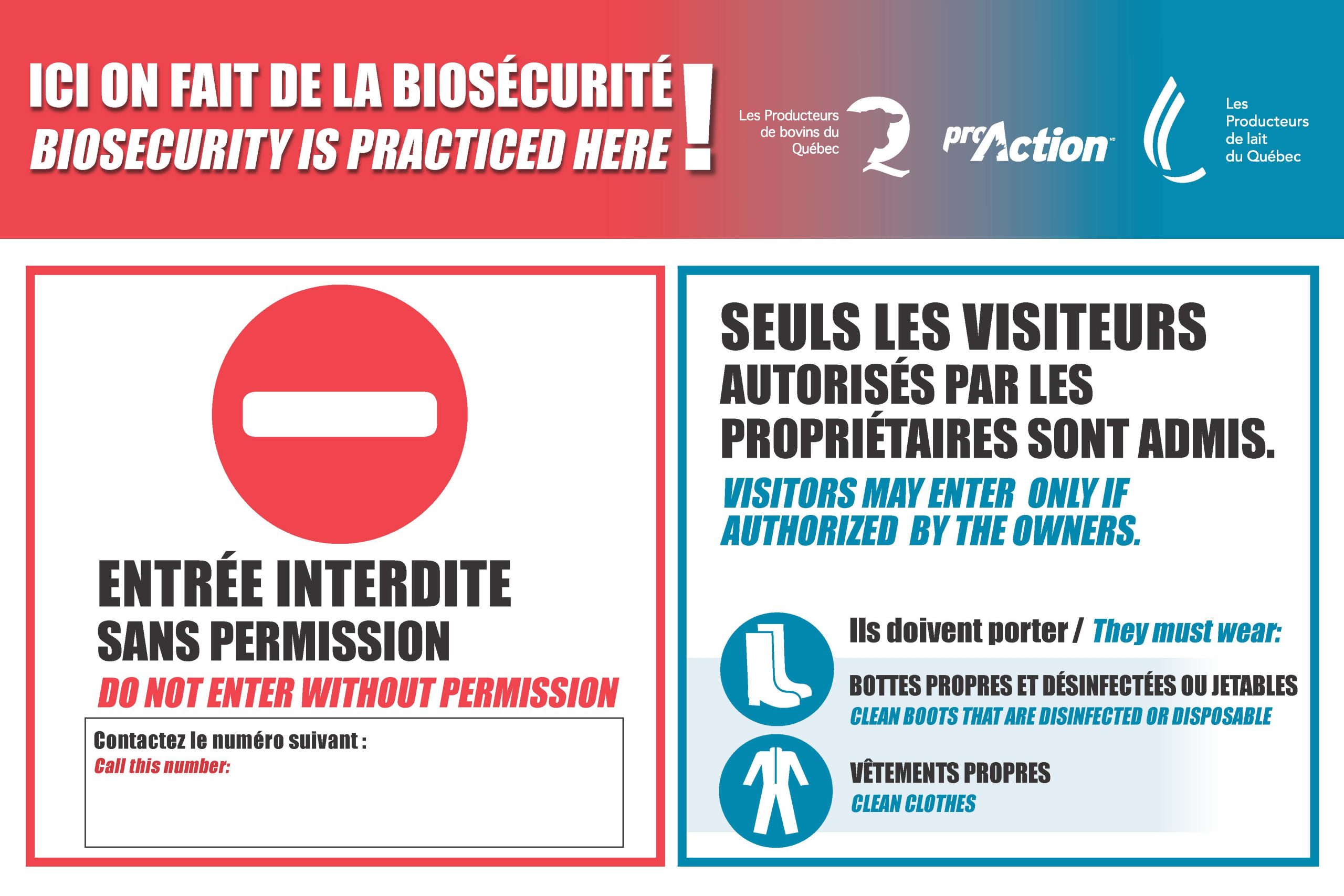 There are many external biosecurity measures that can contribute to protecting your herd, such as:
Control of visitors and workers

Control of purchases

Control of transportation companies

Reintroduction of animals
In the case of Salmonella Dublin, control consists of preventing bacteria from entering through contaminated manure.
Examples of good practices: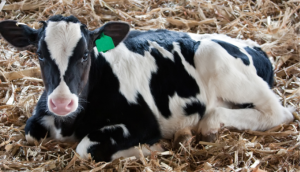 Prohibit unauthorized entry to buildings

Compliance with visitor hygiene rules

Ask the transporter to wait at the door

Never buy a calf at an auction

Never buy a calf from an unknown herd

Ask the seller relevant questions before buying

Ask for tests before buying

Perform tests if no information is available

Do not go to auctions in your barn clothing

Beware of machinery used collectively

Beware of labour used collectively
Control of propagation
There are many internal biosecurity measures that can contribute to protecting your herd. This involves adopting selected measures as a start and then implementing biomanagement.
Examples of good practices: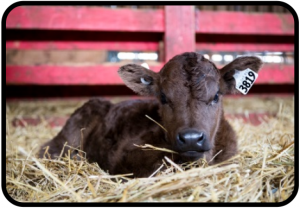 Isolate a sick animal whenever possible

Clean pails, bottles, watering troughs, feed mangers

Beware of manure carried on boots

Separate equipment for feeding and cleaning

Keep birthing areas clean

Do not put sick cows in the birthing areas

Tend to sick calves last

Additional washing/disinfection in the calf areas

Isolate a new animal for 14 days

Effective monitoring of the vaccination program

Adequate mineral intake at the end of gestation
Biocontainment
This involves containing bacteria on your premises until the situation is resolved. Keeping sick animals out of the transportation and marketing process is very important for the production sector. The deployment of biosecurity measures will soon be one of the important criteria for livestock buyers.
It is impossible for anyone to be "perfect" in biosafety, but we can all do a little more by adopting a good biosecurity plan. Document the measures in force on your farm and require your visitors and workers to comply with them.
How the PBQ is involved
The PBQ is involved in a number of ways to help the sector develop and improve in the area of biosecurity:
Distributing biosecurity signage across the province
Providing farmers with information on biosecurity and practices they can promote
Participating in research efforts to develop effective management practices

Two major projects were completed in 2021, providing the PBQ with data on the current state of biosecurity on veal calf farms and in calf transport

Forming committees to assess priority actions and potential solutions to implement

Both the PBQ and the PLQ are represented on the cattle sector committee
An action plan has been developed help keep this objective top of mind
Antibiotic resistance
Antibiotic resistance is the capacity of bacteria to resist the effect of antibiotics and certain other antimicrobial agents. It may arise as a result of various factors, but resistance built up because of improper or intensive antibiotic use is of particular concern to the international community.
Accordingly, the World Organization for Animal Health (WOAH) published its Global Action Plan on antimicrobial resistance in May 2015 in an effort to sustainably improve the success of infectious disease treatments with effective, high-quality antimicrobials.
Limiting the increase of antibiotic resistance concerns everyone who uses antimicrobials. Whether we provide medical care for humans, pets, or farm animals, we all need to revisit how these precious drugs are used.
The Programme québécois d'antibiosurveillance vétérinaire provides data for cattle on an annual basis. To view study results, visit the MAPAQ website.