Research Fund
Research is a key element in the development of any industry. Since 1994, Quebec cattle producers have managed a Research Fund, which allows them to fund structuring projects for their production sectors. The creation of this Fund was approved by the Régie des marchés agricoles et alimentaires du Québec.
This Fund is essential to initiate research projects that correspond to the needs of Quebec cattle producers. The research is generally performed by government research centres, universities, private laboratories or private groups.
The financial contribution of the private sector very often determines the government's contribution and is even a condition for government involvement in most cases.
The Fund is built up by a special levy on each head of cattle marketed. It is administered by the five production sectors through their marketing committee. The research projects cover the environment, animal health, herd management and marketing.
The PBQ disseminates research results through various channels. Most appear in the Bovins du Québec section in La Terre de chez nous so that all Quebec cattle producers can stay up to date.
Research projects
The PBQ invests in research through research funds specific to each cattle production sector. For the current year and the next two years, these producer-backed investments total $435,599 for projects valued at $6,838,136. This represents a multiplier effect of 16.
Current or upcoming projects: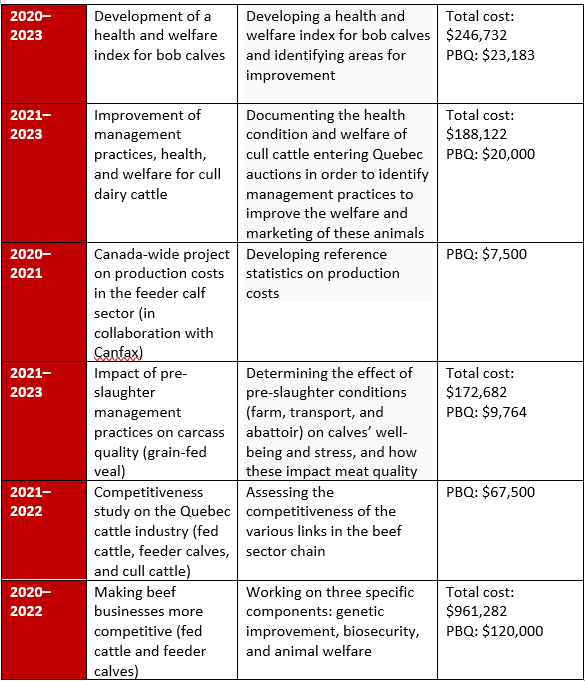 The Canadian beef industry founded a dedicated research organization that actively advances the continuous improvement of beef production across the country. For further information, visit the Beef Cattle Research Council website.