Animal safety
Animal safety and welfare are major concerns world-wide. In Quebec, MAPAQ intervenes when animal health or welfare are threatened. Inspections are conducted in accordance with the regulations in force (see Animal Welfare tab).
Some livestock diseases can compromise animal health. An outbreak of these diseases can cause major economic costs for livestock producers and can even have impacts on human health.
To address this, the PBQ embarked on a collaboration with the Producteurs de lait du Québec (PLQ) to implement an emergency response plan to quickly and efficiently monitor and limit the spread of disease during outbreaks. The plan is currently in development and is expected to be completed in 2024.
In addition, different programs, particularly intended for businesses in the agricultural sector, have been established to improve animal health and welfare. To learn more about animal health, visit the MAPAQ website.
The main animal health concerns in cattle production have to do with biosecurity and antibiotic resistance.
Biosecurity
All meat sold in Canada by retailers, restaurants and institutions has been inspected in advance. There are two inspection levels: those of the federal and provincial governments. The role of these inspection services is to supervise cattle production to ensure compliance with the health and safety directives.
Biosecurity in cattle farming means…
Understanding how to secure your farm against the introduction of new diseases, such as

Salmonella

Dublin.

Controlling the spread of diseases within the herd.

Preventing contamination of other herds.
All these measures form the Biosecurity Plan for the farm.
Prevention of introduction of diseases
Biosecurity poster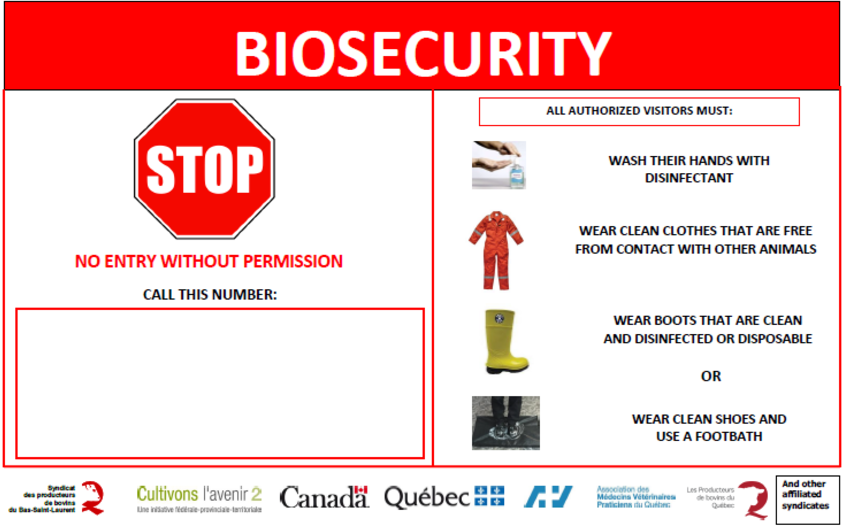 There are many external biosecurity measures that can contribute to protecting your herd, such as:
Control of visitors and workers

Control of purchases

Control of transportation companies

Reintroduction of animals
In the case of Salmonella Dublin, control consists of preventing bacteria from entering through contaminated manure.
Examples of good practices: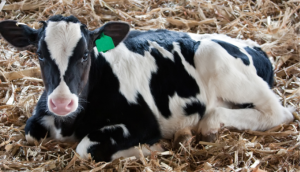 Prohibit unauthorized entry to buildings

Compliance with visitor hygiene rules

Ask the transporter to wait at the door

Never buy a calf at an auction

Never buy a calf from an unknown herd

Ask the seller relevant questions before buying

Ask for tests before buying

Perform tests if no information is available

Do not go to auctions in your barn clothing

Beware of machinery used collectively

Beware of labour used collectively
Control of propagation
There are many internal biosecurity measures that can contribute to protecting your herd. This involves adopting selected measures as a start and then implementing biomanagement.
Examples of good practices: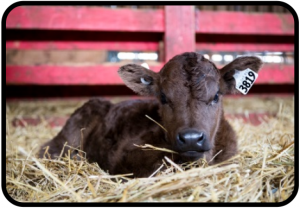 Isolate a sick animal whenever possible

Clean pails, bottles, watering troughs, feed mangers

Beware of manure carried on boots

Separate equipment for feeding and cleaning

Keep birthing areas clean

Do not put sick cows in the birthing areas

Tend to sick calves last

Additional washing/disinfection in the calf areas

Isolate a new animal for 14 days

Effective monitoring of the vaccination program

Adequate mineral intake at the end of gestation
Biocontainment
This involves containing bacteria on your premises until the situation is resolved. Keeping sick animals out of the transportation and marketing process is very important for the production sector. The deployment of biosecurity measures will soon be one of the important criteria for livestock buyers.
It is impossible for anyone to be "perfect" in biosafety, but we can all do a little more by adopting a good biosecurity plan. Document the measures in force on your farm and require your visitors and workers to comply with them.
Salmonella Dublin in cow-calf operations
In terms of clinical diagnostic paths, Salmonella Dublin mainly affects calves that are less than 3 months old and they typically exhibit the following symptoms:
Super-acute form: calves 1-3 days old die rapidly

Diarrhea and/or pneumonia and/or mortality, sometimes combined with nervousness, lameness and necrosis of the extremities

Variable morbidity and mortality
In adults, typical symptoms are:
Diarrhea accompanied by fever

Miscarriages in the final third of gestation

Stillbirth
Treatments
Use of antibiotics, but this may increase the risk of carriers

Necessary for animals with severe symptoms/blood in feces

Consult your veterinarian to determine whether antibiotic therapy is justified

Supporting treatments

Relieve fever (e.g. banamine)

Hydrate (solutes, calflyte)

Measures to take during treatment

Isolate the sick animal, if possible, to prevent propagation

Clean the environment as much as possible to reduce the intensity of the infection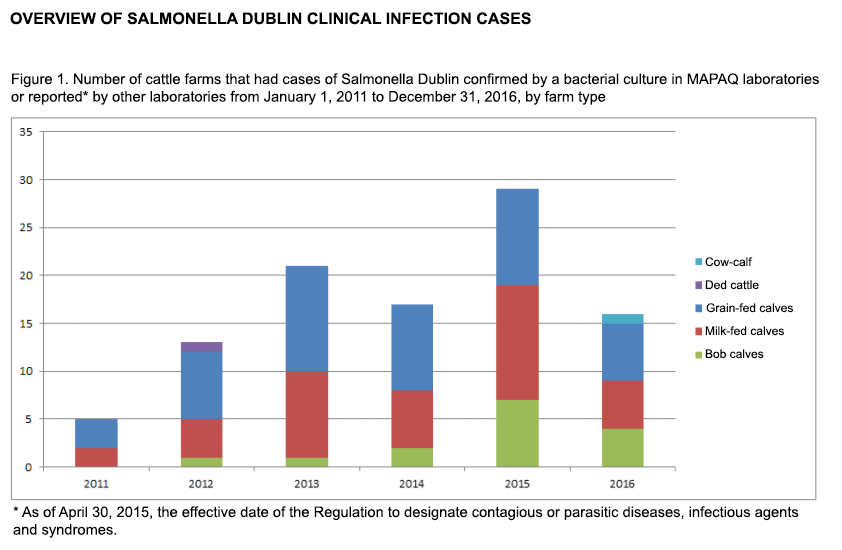 Detection in a cow-calf operation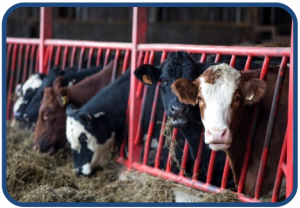 Screening analysis

Serology of 10 animals that are 4 to 12 months old: detection of antibodies

Composite samples: 2 composites of 5

OR

Serology of 15 animals that are 4 months to 5 years old: detection of antibodies

Composite samples: 3 composites of 5

Interpretation of the results

Negative result of screening: operation considered at LOWER risk of having been exposed

Other considerations

Several negative screenings in a row reduce this risk

Adjustment of screening frequency based on level of risk

Introduction or reintroduction of an animal

Biosecurity level
Screening at a cattle farm
Recommended frequency of screening tests at a cattle farm for Salmonella Dublin
| | |
| --- | --- |
| Farm context | Suggested frequency |
| Closed operation and biosecurity well applied | Annual |
| Open operation, biosecurity well applied and purchases verified | Every 6 months |
| Open operation, inappropriate biosecurity and/or purchases not verified | Improve biosecurity and the purchasing protocol and schedule new screening tests |
Screening of an individual animal
Screening tests

2 serologies at 30-day interval: detection of antibodies

Isolate the animals for 14 days before the tests begin

Interpretation of the results

Negative screening results: animal considered at

LOWER

risk of having been exposed

Other considerations

Prioritize farm-level screening over individual screening

Antibody rates highly variable
Screening of asymptomatic carriers
Screening tests

3 serologies over a 120-day period: detection of antibodies

Interpretation of the results

Negative screening results: animal considered at

LOWER

risk of being an asymptomatic carrier

Other considerations

Antibody rate variable over time

For tracking of animals that have exhibited clinical signs

Asymptomatic carriers

18% of the exposed animals that have exhibited clinical signs

1.5% of the exposed animals that have not exhibited any clinical sign
Disease transmission method
How is an animal infected?
By

ingesting or licking

food, water, the airborne environment, an object or clothing contaminated by the

feces

of an infected animal (including a carrier).

Other possible sources

Milk and colostrum

Urine

Saliva

Vaginal secretions

The animals are contagious/excreters

While they are sick in the acute phase.

When the disease becomes chronic, after about 30 months.

If the animal becomes a carrier, periodic or continuous for years, in the feces and sometimes even in the milk.

Sources of contamination of a farm site

Introduction of an animal from an infected herd

Mechanical vectors: contaminated visitors or equipment
The level of infection depends on the dose!
Infecting dose = 10

8

bacteria ingested

1 gram of feces from an animal in the acute phase or an active carrier
In conclusion, prevention and control of Salmonella Dublin depend on biosecurity and not on treatment or eradication.
Antibiotic resistance
Antibiotic resistance is the ability of bacteria to resist antibiotics and certain other antimicrobials. This resistance may have different causes, but resistance acquired after misuse or intensive use of antibiotics is of more particular concern to the international community.
This is the reason why the World Health Organization (WHO), in May 2015, published its Global Action Plan on Antimicrobial Resistance, whose objective is to ensure continuity of successful treatment and prevention of infectious diseases with effective and safe medicines that are quality-assured.
Controlling the increase in antibiotic resistance is the responsibility of everyone who uses antimicrobials. Whether they are used for human medicine, for pets or for livestock production, everyone must review the way they use these critically important medications.
The Programme québécois d'antibiosurveillance vétérinaire (Quebec Veterinary Self-Monitoring Program) provides annual data for cattle. To familiarize yourself with the results of this study, visit the MAPAQ website.