Réseau Encans Québec
Réseau Encans Québec (REQ) markets more than 80% of the animals sold by auction in Quebec, which is 470,000 animals (cattle, sheep, pigs, goats) with annual sales of more than $150 M.
The two groups agreed to team up to share a common vision: to build together, a modern, dynamic live animal auction system in Quebec to offer producers and all stakeholders high-quality services at competitive prices.
The animal welfare conditions and the respect of environmental regulations constitute priorities for the managers of Réseau Encans Québec.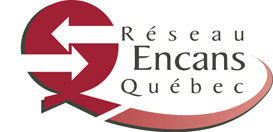 Business partnerships
In recent years, the FPBQ has developed various business partnerships in sectors strategic to cattle production.
These collective business investments represent one of the pillars of an innovative marketing strategy. Through their concrete commitment, producers secure the sale of their products and maintain competitiveness between buyers. Their close involvement improves cattle marketing and enhances producers' net income.