Product Quality
In August 2002, the sales agency imposed an additional charge of $5 for each non-conforming calf (uncastrated or improperly castrated, not dehorned or improperly dehorned and not conforming to type) to raise producers' awareness of quality criteria. Two years later, the charge was raised to $15 per calf.
The number of non-conforming calves subsequently dropped significantly. Calves not dehorned or improperly dehorned have declined by 55% since 2003 and uncastrated or improperly castrated calves have declined by 50%!
To assist feeder calf producers in improving the quality of their product, the sales agency has participated in many workshops and information meetings on various subjects, such as vaccination, dehorning, weaning and grading.
Since August 2016, additional marketing charges increased to $20 for each non-conforming calf.
Vaccination
Always with the objective of offering a better quality product that meets the needs of buyers, the sales agency implemented a comprehensive calf vaccination strategy for special auctions to strengthen the calves' immune system and reduce health and mortality problems.
Since October 2003, all calves sold through special auctions must be vaccinated according to the vaccination protocol recommended by the Federation.
This protocol was developed by the veterinarians of the Faculty of Veterinary Medicine of the University of Montreal, representatives from the Association des médecins vétérinaires praticiens du Québec and representatives of fed cattle and feeder calf producers.
With its compulsory vaccination program, Quebec is well in advance of the other Canadian provinces.
For more information, consult Info-circuit 2018-2019 as well as the 2020-2021 Vaccination Declaration.
Vaccinating your breeding herd with fetal protection
Starting on August 1, 2023, all feeder calves sold through the Quebec Specialized Feeder Calf Auctions Circuit must come from a breeding herd that has been vaccinated for fetal protection.
This measure was adopted by producers gathered in assembly and is in accordance with the recommendations of a vaccination committee. The committee was made up of veterinarians from the Faculty of Veterinary Medicine at the Université de Montréal, representatives from the Ministère de l'Agriculture, des Pêcheries et de l'Alimentation du Québec, a feeder calf producer, a fed cattle producer, and a veterinary consultant.
The vaccination of breeding herds will be beneficial for the whole sector and will prevent abortions resulting from infectious bovine rhinotracheitis (IBR) and bovine viral diarrhea (BVD). Depending on what vaccines are used, it will also prevent, or help prevent, immunotolerance to BVD and the birth of calves that are infected with the virus before birth.
There are two different vaccination scenarios presented in Info-Circuit 2021–2022. That said, your veterinarian is always your best consultant when it comes to developing or adapting a vaccination strategy specifically geared to your farm business.
A new vaccination declaration form will be available for the 2022–2023 season of the Quebec Specialized Feeder Calf Auctions Circuit.
Preconditioning guide
A guide to assist producers of feeder calves was published in 2007. Feeder Calf Preconditioning and Backgrounding Guide provides comprehensive, practical information on best practices that will help cattlemen produce quality preconditioned and backgrounded calves. The content of the Guide was created by a committee of stakeholders from the sector and coordinated by the sales agency.
VBP+ Program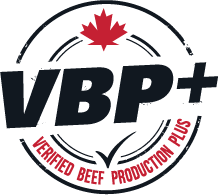 The new Web site of the Verified Beef Production Plus (VBP+) program is now accessible. It includes a regional page on Quebec. Producers and consumers will also find relevant information and documentation on the program, in both French and English. VBP+ is a program directed by producers, designed for the future, with the objective of allowing the industry to anticipate the emerging and growing demands of beef production throughout the value chain.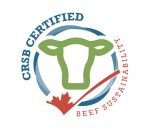 VBP+ links farm registers and auditing of animal care, biosecurity and environmental stewardship practices with the established on-farm food safety program (VBP), which is recognized by the Canadian Food Inspection Agency. This program contributes to meeting the demand for sustainable beef production on the cow-calf farm and at the feedlot. VBP+ is aligned with the Code of Practice for the Care and Handling of Beef Cattle and the sustainability indicator work of the Canadian Roundtable for Sustainable Beef (CRSB), to guarantee rigorous practices and principles in animal care, biosecurity and the environment. The cattle farms registered for VBP+ will be able to provide proof of their sustainable practices and will be well positioned to supply Canada's sustainability program.